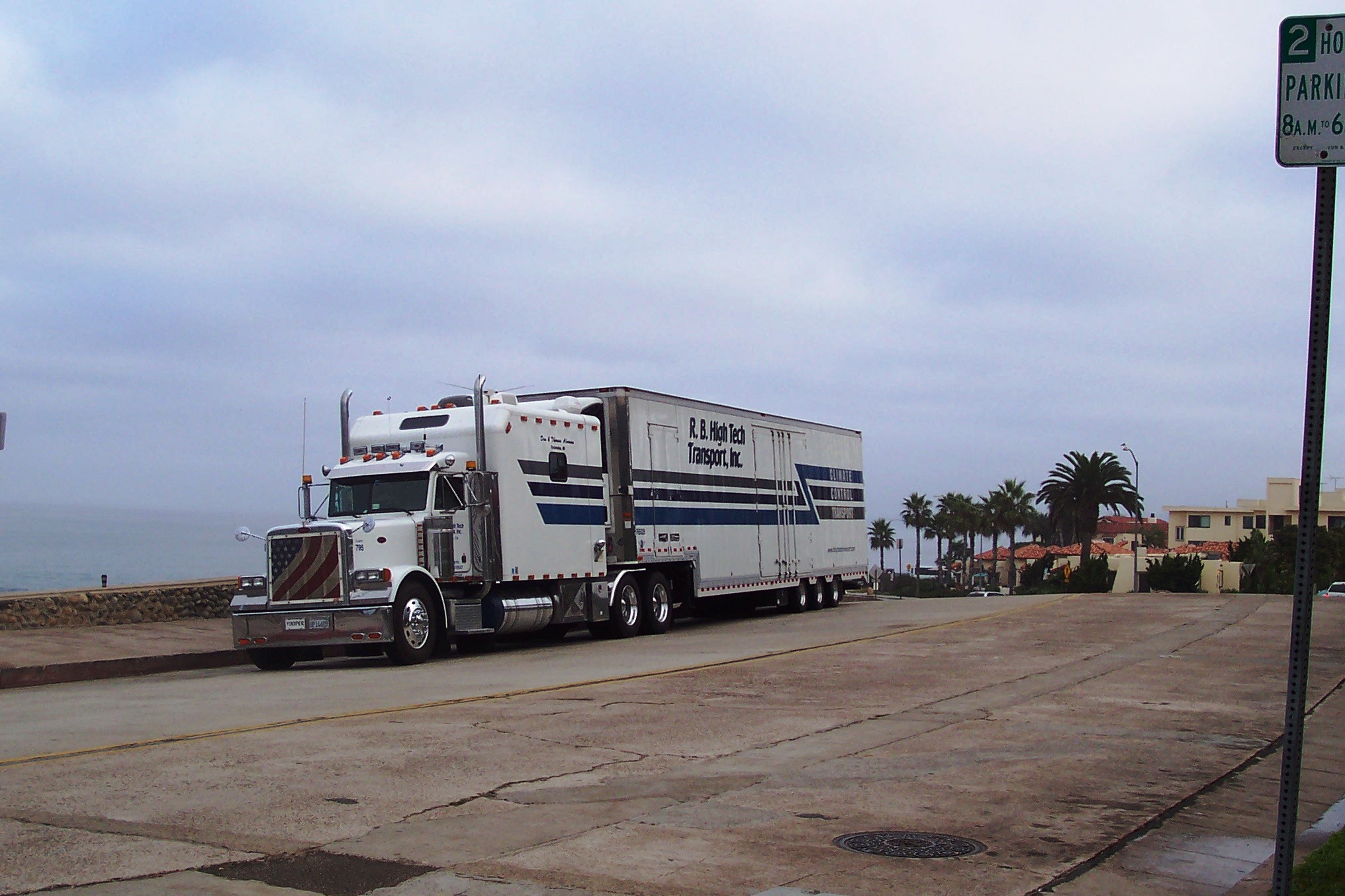 SERVICES
CLIMATE CONTROLLED TRANSPORTATION
R.B. High Tech Transport has one of the finest C.A.R.B. Compliant climate fleets in the industry. We custom design these units to meet the highest demands of the semiconductor and fine arts industry to provide worry free transit of temperature and humidity sensitive items. These units are serviced routinely and certified for accuracy by the manufacturer on a regular basis. We have the ability to add extra dehumidifiers, and to power additional heating or cooling units in extreme situations. Our data recorders are able to provide 15 minute sampling over the duration of the move.
FINE ART
R.B. High Tech Transport has spent considerable time and money to put together a premier fine arts transportation group. Having worked for major van lines, our drivers bring many years of experience in the handling of art work. They have also been qualified by the Smithsonian to provide the best possible service to museums, galleries, and exhibit registrars. Our top-of-line climate controlled trailers have air ride suspensions and lift gates. We also provide on-site packing and transportation of fine art objects.
FINE ART AND AMERICAN ASSOCIATION OF MUSEUMS (AAM)

R.B. High Tech Transport is a member of the American Association of Museums. We are actually listed as the top carrier on their Market Place Website. Click link below for AAM Market Place.



American Association of Museums (AAM)



STORAGE

R.B. High Tech Transport added an additional 25,000 square feet to our existing 52,000 square foot warehouse facility in October 2010. 77,000 square feet total! Our warehouse is clean, fully insulated, well lighted, and fully equiped with sprinklers. We have a variety of handling equipment on site to safely move any type of product, including forklifts with 15,500lb and 20,000lb capacity and air bearings for the larger equipment. We also feature a Climatic Storage Facility on site. This is designed to store precision optical equipment, such as steppers, for the semiconductor industry. It can accomodate a tool up to 120" tall through the doorway. The Facility is Computer Monitored and has extremely small temperature and humidity fluctuations due to the design of the air handling system. We can supply Nitrogen Purge to Tools via a Nitrogen Generator at 99% pure or ultra pure via bottled nitrogen. Most importantly, the Facility has a Dedicated Computerized Auto Backup Generator System to power HVAC, De-Humidifiers and Nitrogen Generator in the event of a power failure. A Multicam Remote Surveillance and Digital Computer Recording system provides constant facility monitoring. This eight camera system utilizes both conventional and infrared technology. Please e-mail or call with any questions you may have, or to arrange a tour.
100% AIR RIDE

All of our equipment is custom designed for the transportation of high value, extremely sensitive cargo. In addition to being 100 percent air ride, we pad and secure every piece of cargo to isolate it and prevent any movement while in the trailer. Our experience has been a ride with "G" force variation of less than 2 G's. As an added service for our customers, we can provide computerized ride monitoring upon request.



PADDED VAN AND BLANKET WRAP

R.B. High Tech Transport carries pads, straps, bars and chain hooks as standard equipment on every trailer. Our drivers are trained to pad and secure for maximum safety. For example, our drivers are taught to pad wrap trade show booth components to look "like christmas presents". In other words, no bare surfaces, no untaped corners or loose material. We carry this level of professionalism to all of the commodities that we transport, whether machinery, tradeshow, or fine art.


EXPEDITED SERVICES

Our trained drivers can run essentially non stop anywhere in the United States. That equates to 50 hours to the East Coast, 48 hours to the mid west, and 12 hours to the Northwest. Additionally, if something requires overnight service by air, we have established strategic partnerships in order to provide this service.


INSIDE DELIVERY AND SET UP

Our trained personnel are expert in providing seamless, non-disruptive, inside delivery, uncrating, and set up for all types of medical, biotech, and semiconductor equipment. We have thousands of hours spent inside clean rooms, labs, and medical facilities. These services include assembly, debris removal, and satisfaction of the customer. To our compliment, most customers never know we were there.


RIGGING

Our trained personnel can move your equipment in and out of clean rooms, across raised computer floors, up and down stairs, through windows and to and from rooftops. We have jacks, skates, forklifts, wheels for any purpose, and air bearings to smoothly and safely facilitate the movement of your equipment.

With the addition of J & J Machinery Moving to R.B. High Tech Transport, Inc. in November 2008, our ability and capacity have moved to a new level of expertise. See NEWS for more information.



INTERSTATE AND LOCAL

R.B. High Tech is a TSA, DOT and DOD approved carrier with operating authority for the entire United States and Canada. All employees undergo annual TSA IACSSP Training. We are registered with SAM for all Government related transportation. Click links below for info on TSA & SAM.


Transportation Security Administration (TSA)


System for Award Management (SAM)



TRUCKLOAD, LTL AND OVERSIZE SHIPMENTS

No shipment is too large or small for us to transport, provided that it can be carried legally. Our standard trailers have 120" rear door height, 98" inside width, and 53' of length. We have 10' and 12' side doors, some with 110" height to facilitate the loading or particularly heavy tools. Our curtain side trailers can accomodate cargo 38' long by 12' wide and 10' high in an enclosed trailer, protected from the elements.


TRACKING

Utilizing a Global Locating System (GLS) from

, we are able to track trailers 24 hours a day, 365 days a year throughout North America. The SkyBitz mobile asset tracking and data management network tailors information delivery to the schedule you need to manage your business.